« November 2004 | Main | January 2005 »
December 31, 2004
New Years with the Funtain
I took my niece Siobhan over to Steve Mann's place today to help him set up his Funtain (a water powered organ) and we took lots of pictures.
Happy New Years!
Posted by jason at 11:33 PM | Comments (1)
Call for Submissions: Harrow Anthology - Midnight Lullabies
THE HARROW is pleased to announce its new anthology
Midnight Lullabies
Co-Editors: Kfir Luzzatto & Dru Pagliassotti
Poetry Editor: Jason Nolan
Art Editor: Yuka Kajihara
All proceeds will benefit Doctors Without Borders/ Mˆ©decins Sans Frontiˆ®res
Submission period
Opens: January 1, 2005
Closes: when full
_________
See full guidelines at http://www.theharrow.com/books/ml/index.html
In Brief
This anthology will be a collection of between 10 and 20 outstanding short stories in the dark fantasy and horror genre. Each story will be preceded by a short poem. The anthology will be illustrated. The anthology will be published in eBook format and paperback publication will also be considered. All proceeds from the anthology will be donated to Doctors Without Borders.
Subject
Stories and poems must be horror or dark fantasy. The theme of the anthology is "childhood stories that terrify little children who have survived to become adults, to the point that they wish they had died in the cradle ...". There will be no dead babies in the anthology, though. Grown-ups, on the other hand, can die profusely.
Beyond those requirements there are no limitations to the type of story that you may submit. However, in order to be included in the anthology, the horror and gore must be tasteful within the context of the plot.
Submission Deadline: Until approximately 12-15 works of poetry and fiction have been accepted.
Projected Publication Date: Fall 2005
Payment
All proceeds from the anthology will be donated. Payment to accepted authors will be $5.00.- and to accepted poets $3.00.-, to be paid within 60 days from publication, via PayPal only.
Rights
Accepted authors and poets will grant The Harrow Anthology one-time exclusive first English-language rights to their work, for electronic and print publication. Accepted authors will receive a detailed contract upon acceptance.
Posted by jason at 08:17 AM | Comments (0)
December 30, 2004
Why stop now?
Joi Ito's Web: Amazon's tail was a bit shorter
Chris updates some figures from his original article where he had written that "57% of Amazon's book sales are of books not available in stores". He writes in an update, "I've now spoken to Jeff Bezos (and others) about this. He doesn't have a hard figure for the percentage of sales of products not available offline, but reckons that it's closer to 25-30%. That would put it in line with Netflix's and Rhapsody's figures." There is an interesting discussion going on in the comments as well.
Of course the interesting question is the reverse. What percentage of books NOT available from amazon are available in other bookstores. And if it isn't 'available' in 24 hours, is it available, or is it just in their database. And of course my question is what you would expect, why is it that people stop in their line of questioning before they get beyond the most superficial conclusions? Amazon IS bigger than any one book store, but like any tool that constructs attention, it also constricts options. The tools we create limit what we can create, and tools for access in tern limit what we can access...
Posted by jason at 11:32 PM | Comments (0)
White Chistmas...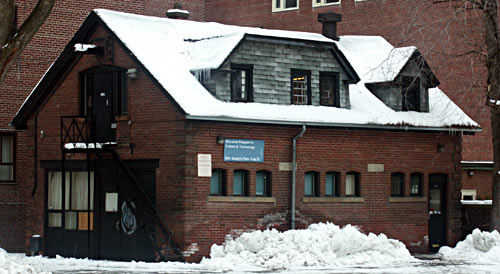 Ever wonder what the McLuhan coachhouse looks like? Here it is, in all its marginalized glory.
Posted by jason at 11:10 PM | Comments (0)
The Harrow Undead!
The Harrow: Original Works of Fantasy and Horror:¬Ý¬ÝVol. 8, No. 1 (2005) is out!
Dru and I have been working with a cast of thousands to move volume 8 of The Harrow from being a handrolled web site to a fully online journal, using John Willinsky's PKP Open Journal Systems.
Posted by jason at 05:59 PM | Comments (0)
December 28, 2004
More quincey
Jeremy claims that it is not his cat. And he's right. It is Elizabeth's cat. And Yuka loves him. And I'm testing out my new tripod doing low light closeups of the lad.
Posted by jason at 11:43 PM | Comments (2)
Tripod!

With Kenny's help today, I bought this manfrotto tripod. Never heard of manfrotto before, but kenny speaks highly of them... I have a manfrotto monopod I bought last year, but not cause I knew any better. Just lucky.
Posted by jason at 11:25 PM | Comments (1)
December 24, 2004
Quincey!
Yuka and I are cat-sitting Elizabeth's cat Quincy. You get bonus marks if you know the relation between the name quincy and vampires.
Posted by jason at 08:49 PM | Comments (3)
Something for the Text Fan...
"NanoBlogger is a small weblog engine written in Bash for the command line. It uses common UNIX tools such as cat, grep and sed."
Posted by jason at 12:31 PM | Comments (0)
December 19, 2004
People Will Sign Anything
Jeremy pointed me to this: People Will Sign Anything
"I meant to send it out to the folks in my E-Commerce class, where we spent a good chunk of time talking about shrinkwrap, browsewrap, and click-through licenses (all of which, it was agreed, nobody ever reads)."
Posted by jason at 12:35 PM | Comments (0)
December 14, 2004
Blogging and Ethics, Part 3: The Anti-Guidelines
Free Range Librarian: Blogging and Ethics, Part 3: The Anti-Guidelines
Rochelle's defending the faith this time.
Posted by jason at 09:32 PM | Comments (0)
Opinion piece: Megan Boler lecture
From campaignaudit.org, something on what Megan's up to:
Associate Professor Dr. Megan Boler, of the University of Toronto, spoke on "Democracy or 'A New Form of Desperation'? Satire in Political Multimedia," on Dec. 3 at the University of Washington. She explored such questions as to what degree or ways the Internet and multimedia productions constitute a new public sphere of discourse and public engagement, and the ability of the Internet and these multimedia productions to challenge mainstream media through the use of irony and satire. Boler'Äôs arguments were incredibly thought provoking and excellent material for reflection on the role of the Internet in public engagement, although tended to be biased in the use of examples of multimedia productions to support her arguments.

Boler'Äôs argument rested on the premise that prior to Sept. 11, 2001, Americans could have been categorized as oversaturated, disaffected and dis-attached, and that as a result of the attacks, a wave of horror, grief, international violence and eventually an immense worldwide peace movement swept over citizens. Boler contended that the American public felt deceived by the United States government and had an enormous desire for 'Äòthe truth.'Äô In the argument of Boler, one must infer that this regarded secrets kept from the public by the government about the war in Iraq, terrorism, and Sept. 11. Subsequently the public and independent media sources such as JibJab.com, blogs or even The Daily Show with Jon Stewart use satire and irony to communicate the unsaid and question the mainstream media, particularly the Internet. Boler argued that these types of media use satire and irony to communicate and reveal 'Äòthe truth'Äô about the government to citizens without explicitly articulating meaning with words.
Posted by jason at 05:13 PM | Comments (0)
December 12, 2004
The fetishized metanarrative of "The Librarian"
Free Range Librarian: Blogging and Ethics, 2: "It's Only a Blog!": The Cloak of Commentary


On too many blogs, the writer and hides behind the cloak of commentary, using the excuse that what he or she is writing is not "journalism," just the happy noodlings of an amateur with time on his or her hands. This excuse then becomes a blanket exemption for excursions outside of the normal boundaries of ethics and integrity, such as misrepresenting the facts, confusing opinion with reporting, failure to reveal sources, leaping--or in many cases hurtling--to conclusions, and general "blog first and ask questions later" behavior.


This kind of blogging is not only unethical, but counterproductive. The decision to be an ethical blogger does not condemn you to a bland, unopinionated world. Just the opposite: your willingness to fact-check, reveal sources, limit bias, and emphasize fairness will help make your commentary readable, and your conclusions credible. You can present opinions, even very strong opinions, in a manner that is fair and ethical. Frank Rich does this every Saturday in the Arts section of the New York Times. It's the difference between truly good commentary and the trash-talk in far too many media venues. It's the difference, in essence, between opinion and bias.
Ok. Since when does commentary need a cloak to hide under? What's with the hegemony of journalistic/librarian ethics? Why the fetististic need for conformity to an ethical standard? I don't teach that to my grad students who will become librarians. We discuss the infinite potential for the diversity of voices, views, attitudes and forms of expression that the internet allows, as well as the inherent English male cultural bias encoded within it. Librarians should be showing their diversity, and modeling multiple forms of expression and genres... not hiding in the straight-jacket stacks of 'guidelines' for proper conduct and etiquette.
The Librarian is no longer the banner carrier for all that's right, true and good. We've exploded the illusions of bias-free status of the Librarian. As we have with just about all the purveyors of cultural norms. Same goes for the journalist and her ethics. Why create another fraud and try to market it?
On the point of commentary: "This kind of blogging is not only unethical, but counterproductive." What are you smoking? I guess I've had wider experience as a blogger, and live in a larger world. We don't need to impose metadata tags on blogs. We don't need to make them to some cataloguing nightmare. There are millions of bloggers writing about what is meaningful to them, without the straight jacket you want to impose on yourselves, and thereby model as correct practice for others. The standards are communal and self-selecting. The technology and the language of the discourse is liquid. It is a living genre just as English is a living language.
Blogs are forms of reflective writing, they are poetic, they are moronic, they are wrong, they are commentary, they are wise. They are written by teenage girls. They are written by pre-op transsexuals. Some of them are even written by librarians and journalists, but they're just a minority. They are certainly written by students and educators. Is the librarian so much better, so much on a higher plane of ethical existence that their personal voice should be constrained in a vice of ethical guidelines?
But if you want ethics... why invent your own. You should conform to my ethics. My academic standards. A my university, all research and inquiry much meet the stanards of the faculty of medicine. You want to live up to that? I do, and I enjoy it. For my formal peer reviewed academic work, that is. When I'm blogging I can saw whatever the fuck [sic] I like. I can even be intelligent at times, though that's not what blogging is about for me. People can read my academic work. They can read my blog. And you know what? They're smart enough to tell the difference. I don't have to play august professor in my blog. That's just another dead victorian fiction. I serve better to show that there is no ivory tower perfection. To pull back the curtain and show what goes on behind the wall.
This whole holy mission of the librarian stuff just has to stop. It is not the 19th Century, and we're not accolytes of Matthew Arnold. "I'll repeat my concern that librarians, in particular, need to be very cautious when they blog. This is a meta-ethical issue: when you blog as a librarian, even as a librarian "just goofin' around," you are representing what people think about librarians." Well, I've grown up in libraries, my partner is one. Most of my grad students are in library school. I know what librarians are like. They are normal people. They are no more paragons of truth than teachers in highschool (of which I was one) or university academics (me raises hand) or published scholars (same again).
To quote the evil Joseph Lancaster "A place for everything and everything in its place." And what did he do? He systemized instruction of 'the other' for whom is was not worth the effort to properly educate. He represents the nadir of education. Librarian as missionary is a child of that metanarrative, and anything that librarians can do to short cut that false doctrine is all right by me.
---
The funny thing is with the leaving of comments. Her comments code is broken, and not fixed. THIS is what a librarian should now be shown to be... technologically challenged, and silencing.
Free Range Librarian K.G. Schneider's Postcards from the Edge of Librarianship

Thank You for Commenting

Your comment has been received. To protect against malicious comments, I have enabled a feature that allows your comments to be held for approval the first time you post a comment. I'll approve your comment when convenient; there is no need to re-post your comment. Return to the comment page

Use of uninitialized value in concatenation (.) or string at lib/MT/Entry.pm line 241.

Posted by jason at 11:47 AM | Comments (1)
Stupid or What?
[rochelle tipped me off on this one. she knows everything.]
ACS Takes Legal Action Against Google
Google search service is said to infringe SciFinder Scholar trademark
A beta version of Google Scholar (http://scholar.google.com) debuted in mid-November. The search service allows users, at no cost, to 'Äúsearch specifically for scholarly literature, including peer-reviewed papers, theses, books, preprints, abstracts, and technical reports from all broad areas of research,'Äù according to a Google website.
The ACS complaint contends that Google's use of the word scholar infringes on ACS'Äôs SciFinder Scholar and Scholar trademarks and constitutes unfair competition. SciFinder Scholar, a desktop research tool designed for academic scientists, was launched six years ago.
Posted by jason at 11:08 AM | Comments (0)
December 10, 2004
Ubu Roi Day!
Great Stories, People, Books & Events in Literary History
"On this day in 1896, Alfred Jarry's avant-garde play, Ubu Roi, opened and closed in Paris. When Ubu came on stage with a large target drawn on his belly, a toilet-brush for a scepter, and the play's opening line of "Merdre!" there was a 15-minute riot. W. B. Yeats was present, and later summarized the new style in prophetic terms: "After us the Savage God." "
Of course he spawned the great Akron band "Pere Ubu" (cf The Home of Ubu Projex
) as well. And a lot of poetics silliness such as the Ubu boys.
Posted by jason at 08:35 AM | Comments (0)
December 08, 2004
Vote for me!
Julia D nominated me for an Edublog Award: Best use of weblogs within teaching and learning. Please vote and share this around.
I'm "KMD1002 & KMD2003 http://www.livejournal.com/community/kmd1002/ & http://www.livejournal.com/community/kmd2003/"
Posted by jason at 12:41 PM | Comments (0)
Americans Traveling Overseas - Consider Going Canadian!

Rather travel overseas or in Canada without having to discuss your politics with everyone you meet?

Consider Going Canadian!

For $24.95 you get a complete disguise. A t-shirt with the Canadian flag and the saying "O Canada! (National Anthem), a patch for your luggage or backpack, a window sticker and a lapel pin. Plus - Free Report - How to Speak Canadian, Eh?!

Now when someone asks you about American politics, you can say, "I'm on vacation, I don't want to talk aboot it."

Thanks to Jeremy for this.
Posted by jason at 08:31 AM | Comments (0)
December 06, 2004
SlashMobs a Security Risk
I saw this on the front page of the globe and mail newspaper today, but since they don't keep content online for free after a week, I found this:
Slashdot | Flash Mobs a Threat to Security?
RawCode writes "News about a recent report released by the RCMP suggests that flash mobs could pose a future threat to security. 'Some are aimed at celebrities. Tech-savvy teenaged girls in Britain can quickly spread the word on the whereabouts of Prince William, surrounding him with hundreds of screaming fans. Some are political, organizing protests. Text-messaging was instrumental to organizing public demonstrations in the Phillippines that forced President Joseph Estrada from office'."
Posted by jason at 12:27 PM | Comments (0)
December 05, 2004
That 'ol time blogging...
Liz Lawley is the first person I know to actually get around to playing with MS-blog:
Many-to-Many: Ballmer Gets Blogging Religion
Microsoft'Äôs Steve Ballmer seems to have suddenly become blogging'Äôs biggest cheerleader. Here'Äôs a quote from yesterday'Äôs Detroit Free press:
'ÄúBlogging is huge,'Äù [Ballmer] said. 'ÄúIt brings together the three biggest Internet trends: communicating, sharing and socializing. It started with e-mail and instant messaging and music sharing, and it'Äôs getting bigger each day.'Äù
Posted by jason at 09:19 AM | Comments (0)
TSD Creative Writing Contest
To celebrate the 10th year of its inauguration, the Canadian Chapter of the Transylvanian Society of Dracula is sponsoring a Creative Writing Contest with two categories: short fiction and poetry.
Entries must be postmarked no later than 15 December 2004
Posted by jason at 09:13 AM | Comments (0)
December 04, 2004
iTunes cheapest in canada
Canada now has iTunes selling digital music... for $0.99 CDN. Some interesting facts from MacInTouch:
The anonymous reader's comments regarding which songs are available at the various international iTunes stores got me thinking. With four currencies now accepted at the iTunes stores (Pounds Sterling - ¬£, US$, Can$, and Euro - 'Ǩ), iTunes customers need to be currency traders. If I the same song I want to buy is at more than one iTunes store, do I have to buy from a higher priced store? ¬Ý A little checking using xe.com for currency rates shows that the new Canadian store is the least expensive. Here's the pricing data for a single song using each currency:

Can 99 ¢ = US $ .831145

US 99 ¢ = US $ .99

'Ǩ .99 = US $ 1.31506

£ .79 = US $ 1.51881
Now, I went to look to see if they had any music that I would want to buy. The results are mixed. Here is a list of 30 odd bands and artists that I like. Many you don't know. Many are very famous and influential regardless of your musical ignorance. None of them have their full discography online, and most have just a passing nod. I feel that online music is a dangerous thing if it futher restricts choice and opportunity, for the sake of convenience. I'm not sure if I'd buy any music online like this...
stranglers, diamanda galas, ultravox, john foxx, magazine, wall of voodoo, bif naked (1), elastica 1, robert fripp & sylvian (2), sylvian (2), goran bregovic, gotan project, hawkwind, le tigre (1), killing joke (1), dead can dance, lounge lizards (1), japan (4), concrete blonde (3), eno (9), mediaval baebes (3), mick karn, ministry (5), negativland, peter murphy, pere ubu (1), portishead (2), stereolab (7), Zoobombs
Posted by jason at 07:49 AM | Comments (0)
December 03, 2004
I've been Nominated...
JuliaD has nominated me in the "Best use of weblogs within teaching and learning" category of the The Edublog Weblog Awards. Thanks juliaD!
Posted by jason at 10:16 AM | Comments (0)