« December 2004 | Main | February 2005 »
January 31, 2005
Yep, she has made the big time...
Rochelle A. Mazar, who has a great title for her blog ("The Trials and Tribulations of a Subversive Librarian) wrote about this issue a few weeks ago:

"Most organizations already do something else in place of a group blog. They send mass emails. Hundreds of mass emails a week, which generally clutter up mailboxes or get deleted. Wouldn't a blog be better? Rather than spotty archives in people's email, everyone could have access to ONE keyword-searchable, date- and time- stamped archive. Rather than carry on a conversation on a listserv, forcing all staff to get our witty repartee via email, staff with questions could post comments and have them answered by the poster or anyone else with information. I suggested complex, threaded comments for educational blogs, and I would definitely suggest them in this context as well. With threaded comments, questions could be asked, answered, and archived in a forum open to all staff without clogging up inboxes."
Posted by jason at 04:01 PM | Comments (0)
In a previous life
Elizabeth Miller is the vampire scholar without peer. It seems that in a previous incarnation, she was a fiction author too... I found this, and she claims that it is the first time she's heard of it... Sure.
Miller, Elizabeth York. The Vampire. London: D. C. Thomas & Co., 1923. 112 p. hb. Red Letter Novels # 21.
Posted by jason at 10:28 AM | Comments (0)
January 28, 2005
Mark it on your calendars
I hate having to choose times for courses, but they forced me to do it. KMD2003: Knowledge Media Design and Learning will run this summer Tuesdays and Thursdays 9-12 AM. It is open to grad students at UofT.
Posted by jason at 01:35 PM | Comments (0)
Dr. Bombay is Dead?
I just noticed this on LambdaMOO. It is the death of Dr.Bombay (aka Julian Dibble) this month. Or is it. This character was created 1 month AFTER dribble's article Rape in Cyberspace was published. Interesting nonetheless...
Subject: [The Undertaker (#666): Dr.Bombay (#53475)]
Date: Mon Jan 10 18:24:22 2005 PST
From: The Undertaker (#666)
To: *obituaries (#91852)
Subject: Dr.Bombay (#53475)
Sender: Yib's_Assistant (#61050)
Aliases: DrBombay, Samantha, Dr.Bombay, Faaa, DrBombaby, That_Couple, legba, hortonwho, niacin, mordecai-q, memphistopheles, memf, lisbet, emory, kropotkin, gracile, solanas, solveig, sebastiano, laurel, finn, finnegan, crotchet, crot, stingaree, margaret, furie, erato, tomtraceback, and ducko
Born: January 23, 1993
Age: 11 years, 11 months, and 18 days
Last Connect: 1 year, 7 months, 4 days, 6 hours, 58 minutes, and 49 seconds ago
Cause of death: reaped by Mandy (#93395)
[I asked Julian about it...]
Subject: Re: Dr Bombay
From: julianATjuliandibbellDOTcom
Date: January 28, 2005 12:44:21 PM EST
To: jason.nolan@utoronto.ca
Funny, I just noticed the death recently myself. Somebody else seems to have
claimed the name already. The late DrBombay was definitely me, though I
suspect some bug in the age-counting system, since I had the account for
several months before the article came out.
On the other hand, maybe the account you're talking about *was* made after
the article came out, with a slightly different spelling? Dr_Bombay or
Dr.Bombay or some such, e.g.
Anyway.
Julian
Posted by jason at 12:18 PM | Comments (0)
January 26, 2005
What's in a Name?
[ken told me about this presentation he's going to. If you know me, you know my use of the verb bork...]
Privacy Protection Technologies: A Technology Assessment
John J. Borking
Director of Borking Consultancy
Posted by jason at 10:36 AM | Comments (0)
January 25, 2005
iGoalie
Posted by jason at 07:40 PM | Comments (1)
January 24, 2005
The Harrow
[This is from Dr Dru. She and I and a bunch of louts run The Harrow]
Hi, everyone!
It's that time of year again -- time to vote for The Harrow: Original Works of Fantasy and Horror as your #1 fiction webzine in the Preditors & Editors poll! Go to http://www.critters.org/predpoll/fictionzine.shtml and click on The
Harrow!
Send this announcement to all your friends, too ... :-)
- Dru
Posted by jason at 09:54 PM | Comments (0)
If you can read this...
Then you're at the new jasonnolan.net on the new ISP. Yay!
Posted by jason at 06:05 PM | Comments (1)
Going offline for a bit
jasonnolan.net is on the move. So this site may be unavailable for a couple of days while the DNS does its thing. Email to jason@jasonnolan.net may bounce, but jason.nolan@utoronto.ca should be fine.
Posted by jason at 10:27 AM | Comments (0)
January 23, 2005
Richard Bartle has a blog
Richard Bartle has a blog: QBlog!
If you don't know who Richard is and claim any space in the world of information technology at any level, for shame.
He co-wrote a little program called MUD.
Posted by jason at 08:23 AM | Comments (0)
January 22, 2005
--cameramail cameras--
[Yuka forwarded this.]
First, a brief introduction to cameramail.
The idea is not completely original, I'm sorry to admit. While working on a mail-art project for school, I saw Daniel Farrell and Richard Kegler of the website P22 document an impressive number of odd forms of correspondence between their two addresses in upstate New York. One of the last experiments displayed on their site was a camera attached to a postcard and plastered with stamps. Taking a good idea and running with it, I began to mail cameras to various locations. This project is still ongoing. Click on the cameras to view their photos
Posted by jason at 05:12 PM | Comments (1)
Derry Journalist wins case against UK Airport Security Photography
An indie media article notes that a Derry Journalist wins case against UK Airport Security Photography
"A Derry journalist has made legal history by successfully challenging an airport who took his photograph without his consent."
Posted by jason at 08:38 AM | Comments (0)
January 20, 2005
I Want One: StreetWriter
A friend who wishes to remain anonymous sent this to me today... and now I can't wait for my birthday.
Institute for Applied Autonomy
The StreetWriter project expands on the research gained from the successes of the Robotic GraffitiWriter project. The system consists of a custom built, computer controlled industrial spray painting unit that is built into an extended-body cargo van. The vehicle prints text messages onto the pavement in a manner much like a dot-matrix printer. The expanded width of StreetWriter allows for messages and simple graphics that are legible from tall buildings and low flying aircraft and is capable of rendering messages that are several hundred feet in length.
Posted by jason at 10:02 AM | Comments (0)
January 18, 2005
Me and the VanHelsing Crew
The stills are from the Van Helsing DVD documentary on Dracula... which is NOT in the version of the DVD I just bought! But Elizabeth gave me a copy of just the documentary.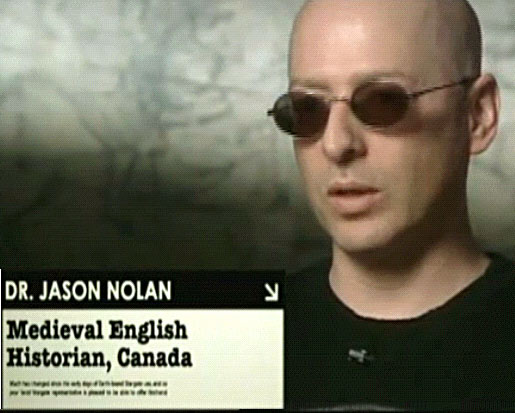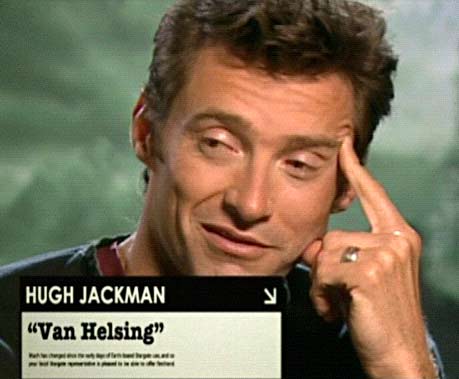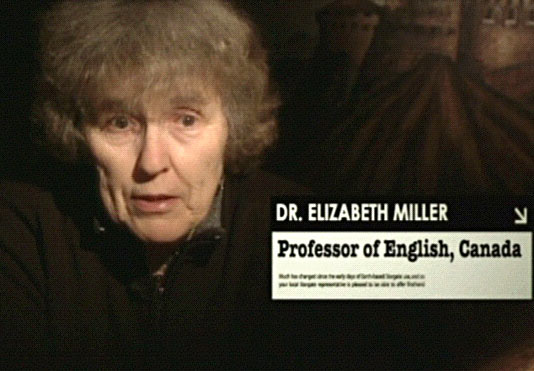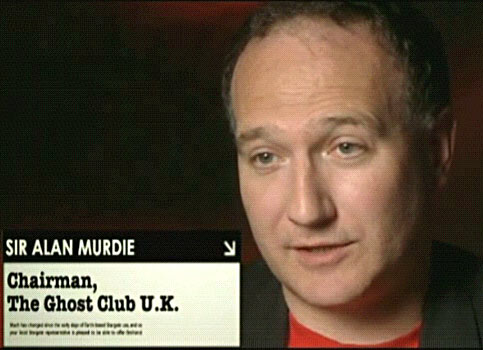 OK, I'll admit it. I never met Kate or Hugh. But the other trouble makers were way more fun.
Posted by jason at 11:07 PM | Comments (0)
OISE Papers in Educational Technology
Look out for JuliaD and I in OISE Papers in Educational Technology Jim Hewitt and Isha DeCoito. Volume 1, 2004. Published by the Imperial Oil Centre for Studies in Science, Mathematics
and Technology Centre at OISE-UT. ISBN: 0-7727-2616-7
Julia's paper is "Opening Discourse: Using Technologies for Supporting Learning in Complex Emergencies." and mine is "The Influence of ASCII on the Construction of Internet-Based Knowledge." (same old stuff for me)
The book is $20 and is available from Isha DeCoito at idecoito@oise.utoronto.ca.
Posted by jason at 05:42 PM | Comments (0)
Cleaning up LiveJournal
I've been cleaning up my livejournal account. It got filled with lots of friends and interesting people, but it also got confused. I use it for teaching, and I don't really update it for any other reason. A couple of days ago, I got this here blog syndicated on LJ (http://www.livejournal.com/users/jason_nolan) so people on LJ can read me, if they want to... and I did some stuff noted below. All my LJ friends are blogrolled on the lower right of this page... and I feel like I've done some good cleaning.
ComplicityTheory

1/18/05 04:49 pm - I have not really unfriended anyone...
Since I've moved my non-teaching, non-harrow.com content over to http://www.livejournal.com/users/jason_nolan I've also gone and moved everyone from my friends list to my http://blogrolling.com roll (down the right of http://jasonnolan.net/words). That is, if you have updated your blog in the past 6 months (one month for students) I've blogrolled you at http://jasonnolan.net/words and I'll read you off there (actually off a cool little function I have there).

If you do a lot of 'friends only' posting please keep me as your LJ friend. OK? Otherwise I won't be able to read you when I click. But if all your posts are public, feel free to unfriend me, I'll see you nonetheless (again, unless you only allow friends comments).

I'll still be using this account a lot, but only for teaching and http://theharrow.com stuff...

I hope that this works out. I'll try it for a term, and maybe change it later. If anyone wants to be on my friends list cause they just feel like it and don't mind periodically getting confused with my students and by my students, it's fine by me. But for each class students will be told to "friend everyone on my friend's list".
Posted by jason at 05:05 PM | Comments (0)
Human Search Engines
Thanks to Inforumed - The FIS Inforum Blog
Johns Hopkins Gazette | December 6, 2004" "Massive information overload is placing librarians in an ever more important role as human search engines. They are trained and gifted at ferreting out and vetting the key resource material when you need it. Today's technology is spectacular 'Äî but it can't always trump a skilled human. Have you hugged your librarian today?"
Rochelle will like this.
Posted by jason at 09:34 AM | Comments (0)
Boss! De Plane!
Airbus A380: "The 555 seat, double deck Airbus A380 is the most ambitious civil aircraft program yet. When it enters service in March 2006, the A380 will be the world's largest airliner, easily eclipsing Boeing's 747."
I don't like planes, but I think I'll like this one. Lots of leg room, and it requires you to walk around. 50% bigger than 747, but only 35% more seats... i.e. more space. And it is about as polluting as driving in your car. That doesn't say much, but it is an improvement.
Posted by jason at 08:12 AM | Comments (0)
January 16, 2005
My dinner with the 'Za Crew
Yukazine and I hosted our first Za fest of 2005. KAT!, Muddy St. Mudshark, JuliaD, and first timer Danny Bakan all came over bearing various gifts, full of good cheer, wit and mirth. JuliaD baked brownies and brought wine. KAT! and Muddy brought cheezes and desserts, and Muddy, bless her, brought me a coooool bottle of wonderful port. KAT! bought some strange and wonderful tasting fruit that I can't remember the name of, but of which she made the following self-portrait. Danny played music on his banjo and my guitar, and previewed some tunes from his forthcoming CD.
I borked the pizza dough by leaving it to rise over the oven vent, and baked half the dough, but it was good over all. Each za was 50% vegitarian 50% sauteed elk. And every second pizza had no goat's cheese. And there was much rejoicing.

Muddy St Mudshark


JuliaD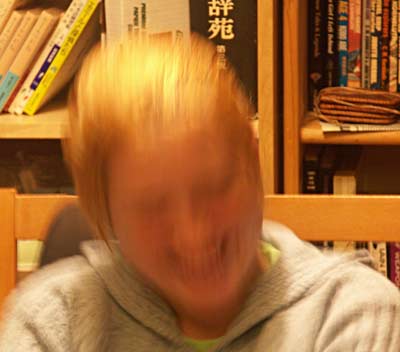 KAT!


Danny


Yuka
Posted by jason at 02:40 PM | Comments (2)
January 14, 2005
livejournal suffered a catastrophic power failure
Yuka went to livejournal.com and saw the following, bork, eh?
Our data center (Internap) lost all its power, including redundant backup power, for some unknown reason. (unknown to me, at least) We're currently dealing with bringing our 100 servers back online. Not fun. We're not happy about this. Sorry... :-/ More details later.
Posted by jason at 10:14 PM | Comments (1)
January 13, 2005
Visual Google...
Ken sent this along...
TheFeature :: Hyperlinking the World
While most of us snap silly candids with our cameraphones, computer vision researcher Hartmut Neven is leveraging the ubiquity of digital cameras to google the world.
For computer vision researcher Hartmut Neven, the proliferation of cameraphones is an opportunity to put his life's work into every consumer's pocket. Neven, the head of the Laboratory for Human-Machine Interfaces at the University of Southern California's Information Sciences Institute, has developed image-recognition software optimized for mobile phone microprocessors. His technology, sold through start-up Neven Vision, already powers gimmicky MMS services from Vodafone Japan and NTT DoCoMo that automatically overlay special effects like tears or a halo on cameraphone video images. The Los Angeles Police Department is testing the same underlying facial analysis technology in the form of a digital "mugshot book." Officers on the streets point a camera at a suspect to see if his or her face matches anyone in their rogues gallery.
Posted by jason at 11:16 PM | Comments (1)
January 10, 2005
Semantic Web: Capitalising on richer Web data
Jeremy put me onto this:
IST Results - Capitalising on richer Web data:

A quiet revolution is coming our way. Recent successful trials of European semantic-Web applications suggest that machine-readable data will soon usher in an improved Web that will facilitate information reuse, and provide for painless building and maintenance of community portals.
Why is it that I don't like the symantic web initiative? I think it is for the same reason that I have problems with metadata projects. I *think* that perhaps I see them as an attempt to reinstitutionalize control over the presentation of data, and the creation of a cannonized subset of the information world that leaves the rest of us deutrocannonical at best, and apocryphal at worst.
Not everyone can get metaconceptual about the production of material, not everyone has the specialized knowledge needed to contextualize information into a symantic web context. So, the semantic web will create insiders and outsiders. It will server to effectively silence the average prosumer of information, and place the institutionally sanctioned knowledge on a higher plane. One may think that this is a good thing, mostly because institutionally created knowledge is better, more accurate and more truthful. If you think that, you should not be reading my blog. You should only be uncritically reading sanitized press reports from official channels.
Posted by jason at 08:45 AM | Comments (3)
January 09, 2005
Edublog Revisited
In Edublog Revisited, Rochelle the wise muses on Educational Blogging:
Long ago a small group of educators got together and formed a group called Edublog. The point, as I recall, was to create blogs for educational use; to promote the use of blogging packages in an educational context. The end goal was, I think, to build an educational blogging system, designed specifically with the classroom in mind.

It never happened. The players got busy or got different jobs or for other reasons scattered to the winds, and not much ever happened on the edublog agenda. Of course lots of people have seen the potential for weblogs in the classroom, and lots of people have made good use of the resources that are there.

But now I think it's time to revisit the original purpose of Edublog, and after lots of careful attention to different available weblog packages and the particular needs and pressures of the classrooms I have known, I think I know what direction we should have gone. And the direction we should go.
[this is a comment I left on rochelle's blog. if you're going off to read hers, which you should do, you don't need this.]
That was back in 2001, and I've still got all the use-cases we wrote up. The problems with MT, LJ and DP are myriad, but they all have something to add to the pie. Seeing that I've taught for many years with the first two and blogger, I'm really getting a feel for what works and doesn't with grad and undergrad classes. LJ rules for personal control and user autonomy. It has the best built in tools for analysing student work. But the GUI is substandard from anyone but a geek's perspective, and the admin tools are only the best, not good. And backups are abyssmal. MT has strengths in control and plugins and backups, and RSS. Drupals customizable, but unless you can handle cron jobs and have a systematic memory, give up.
But if I had to choose one thing that is necessary, as a teacher, it is privacy. PRIVACY. In order to get students to communicate publically, they need control over their own voice. LJ's got a bit of a start on that. But one should be able to control multiple lists of classes, friends and instructors with ease. AND you need privacy on comments. I should be able to make a private post to a student that the student cannot make public, the student should be able to respond to me in the same manner. AND I should be able to leave instructor comments on a blog that even the student can't see, for summative evaluation. ANd I should be able to pull together these groups of comments and notes for evaluative pruposes. Lots of powerful fun there for the educator.
Of course I agree with just about everything you have said, rochelle, the variations are merely taste. Plagarism is a fun one... the real problem is that you need to get students to write on paper in class to see how they right. I will be making students blog in class on paper twice next year, and then let them type it in, as a baseline to hear their own voice.
As for marking, I tell all my colleagues that anyone who is crazy enough to read everything every student produces and all the commentary on it is a control freak who should reconsider their profession. We are teachers, mentors, facilitators of learning... we're not 'readers of every frigging word'. My job is to dance across the discourse, just like a painting studio instructor. Do painting teachers watch every brushstroke? No, they selectively engage what the student is doing, and make comments. I can professionally evaluate a students term of blog work in about 5 minutes, and that includes checking their comments, layout and design and content. I have to be fast when I have 80 students blogging... but that's an issue of pedagogical experience. When we're building an edublog like tool there are hundreds of ways we can develop the eval tools to help this work even faster.
I'm thrilled you're into the topic! Let's go!
Posted by jason at 08:51 PM | Comments (1)
January 07, 2005
Best Coffee in my part of town...
Mangiacake makes the best coffee, and they sell their beans. I just thought I'd share that with you all.
Posted by jason at 09:13 AM | Comments (0)
Project Achieve Resurrected

My Project Achieve virtual learning environment is back up, after being offline for almost a month.
Posted by jason at 08:54 AM | Comments (1)
January 04, 2005
Check for the Checkered Eye...
Libby's one of my old friends from undergrad at York U back in the early 80s. She's got this project called The Checkered Eye Project to promote low vision issues and help people identify individuals with visual challenges. Go Libby!
Posted by jason at 11:19 AM | Comments (0)
January 02, 2005
Office cam still up...

Still shows a 5 minute update of down town toronto out my window. I had forgotten it was still on.
Posted by jason at 10:36 PM | Comments (0)