« livejournal suffered a catastrophic power failure | Main | Boss! De Plane! »
January 16, 2005
My dinner with the 'Za Crew
Yukazine and I hosted our first Za fest of 2005. KAT!, Muddy St. Mudshark, JuliaD, and first timer Danny Bakan all came over bearing various gifts, full of good cheer, wit and mirth. JuliaD baked brownies and brought wine. KAT! and Muddy brought cheezes and desserts, and Muddy, bless her, brought me a coooool bottle of wonderful port. KAT! bought some strange and wonderful tasting fruit that I can't remember the name of, but of which she made the following self-portrait. Danny played music on his banjo and my guitar, and previewed some tunes from his forthcoming CD.
I borked the pizza dough by leaving it to rise over the oven vent, and baked half the dough, but it was good over all. Each za was 50% vegitarian 50% sauteed elk. And every second pizza had no goat's cheese. And there was much rejoicing.

Muddy St Mudshark


JuliaD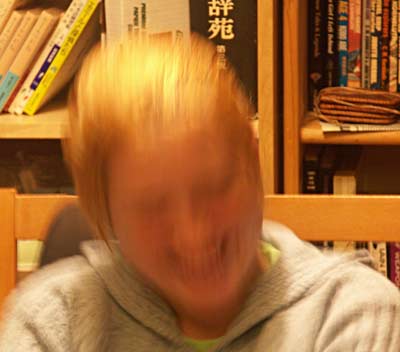 KAT!


Danny


Yuka
Posted by jason at January 16, 2005 02:40 PM
Comments
love the no flash images: it does help develop the language of lightspace.
got some images of villagers dancing traditional dances and comparing it to wind mills, wind, water mills, grape dances: all towards understanding light, movement, and shapes.
I sort of touches on the evolution of cycladic art in the fast forward of now, with the experiences as part of a continuum. from cyladic art, as well as geometric evolution towards classism, one sees the trend toward humanism. There is also the balance of the cooperative spirit that pre cyborg persons needed to make systems, like the wind mill sharing that lead to a healthier society, this balanced with the right amount of competiviness towards striving towards personal and comunal betterment. If there is imbalance, like the imbalance between surveillance and sousveillance creates social tension. But with equillveillance, there is a balance towards the betterment of humanity.
The no flash, open shutter images translate into all sorts of human details, as the stars above where able to be intepreted by camera pointing at sky, tracing the movements across the sky during the night.
[Ed: Ya, tripods rule... ]
Posted by: stef at January 23, 2005 05:26 AM
The Fruit was the glorious Custard Apple.
Posted by: JD at January 18, 2005 12:32 AM