« June 2005 | Main | August 2005 »
July 31, 2005
Something I'll be watching...
Burningbird: To Google, Pregnancy is Evil
Google's motto is "CDo no Evil". We have to assume the company includes getting pregnant as an act of evil, according to a recently filed job discrimination lawsuit.
Posted by jason at 07:49 AM | Comments (0)
What's your library doing on September 11?
Found What's your library doing on September 11? via Alex Halavais.
Talk about issues that matter:

The September Project is a grassroots effort to encourage public events on freedom, democracy, and citizenship in libraries on or around September 11. Libraries around the world are organizing public and campus events, such as: displays about human rights and historical documents; talks and performances about freedom and cultural difference; and film screenings about issues that matter.
Posted by jason at 07:45 AM | Comments (0)
July 30, 2005
Dogs done blog...
Internet's Best Friend (Let Me Count the Ways) - New York Times

Those cats are like so many bloggers sitting at home staring into their computer screens and watching other bloggers blog other bloggers. Cats, who live indoors and love to prowl, are the soul of the blogosphere. Dogs would never blog.
Posted by jason at 07:03 PM | Comments (1)
July 29, 2005
Vanity Cameras, et al.
Chip Chick: Girls' Gadgets of the 1920's & 30's

Ok. I'll stop complaining about people using custom cell phone covers to 'express their individuality'.
Posted by jason at 04:07 PM | Comments (0)
Blathering Blake
I've know shakenblake somehow since I was 5. Though I don't think I noticed until highschool. He's into women's make-up, professionally speaking. Otherwise he's being nature boy. I'll have to dig up some pictures.
Posted by jason at 01:29 PM | Comments (0)
July 28, 2005
Hacking RFID transponders
Got this via Stefanos' Sousveillance Blog: RFIDAnalysis.org
The Texas Instruments DST tag is a cryptographically enabled RFID transponder used in several wide-scale systems including vehicle immobilizers and the ExxonMobil SpeedPass system. This page serves as an overview of our successful attacks on DST enabled systems. A preliminary version of the full academic paper describing our attacks in detail is also available below.
Posted by jason at 07:00 AM | Comments (0)
July 27, 2005
Encyclopedia Dramatica
Encyclopedia Dramatica is a great looking wiki devoted to internet parody, or as they put it "Welcome to Encyclopediadramatica, the ultimate compendium of internets parody."
Posted by jason at 09:11 AM | Comments (1)
July 22, 2005
Even in Paradise...
Long John Baldry passed away today from a chest infection. Aside from his queer anthem "A thrills a thrill" he helped start the careers of his piano player, Elton John, and I think harmonica player Rod Stewart.
Posted by jason at 11:22 PM | Comments (1)
Damn Capitalists!
Language in the New Capitalism is another Hunsinger joint.
Posted by jason at 09:39 PM | Comments (0)
July 21, 2005
No more failing students...
Get ready to e-mail this one to your friends... - Yahoo! News

The word "fail" should be banned from use in British classrooms and replaced with the phrase "deferred success" to avoid demoralizing pupils, a group of teachers has proposed.
Posted by jason at 07:32 AM | Comments (2)
Must-Read Mazar
As usual, Rochelle's right on the money in Random Access Mazar: Dangerous Waters. The whole validity of web resources vs printed texts drives me crazy. As an academic, I am continuously confronted with shoddy, inaccurate and down right wrong information. And I'm talking about peer reviewed scholarly journals and texts published by academic publishers. Don't tell me that the net is a place where you cannot trust the information. Get your own house in order first!!! Lazy gits. I'm tired of hearing how the establishment wants to shoot down things like wikipedia because they cannot control it, when if they were willing to participate they could make it even more useful than it already is. Oh, Rochelle says this better.
And alex has something to say on this topic too.

Posted by jason at 07:23 AM | Comments (0)
July 20, 2005
Pedagogical Stupidity

In another article in the June 2005 issue of THE Journal Online, Laura Turner described the '20 technology skills every educator should have.' In addition to the list of skills, Turner (2005) provides links to supportive web sites to help acquire those skills ...



Word Processing Skills 

Spreadsheet Skills 

Database Skills 

Electronic Presentation Skills

Web Navigation Skills 

Web Site Design Skills 

E-Mail Management Skills 

Digital Cameras 

Computer Network Knowledge relating to local network 

File Management & Windows Explorer 

Downloading Software from the Web 

Installing Computer Software 

CMS Teaching Skills 

Videoconferencing Skills 

Computer Related Storage Devices 

Scanner Knowledge 

Knowledge of PDAs 

Deep Web Knowledge Educational 

Copyright Knowledge 

Computer Security Knowledge  

Over the next 20 postings, I will take each skill and elaborate from the perspective of an Instructional Designer specializing in Online Learning. Reference: Turner, L. (2005). 20 Technology Skills Every Educator Should Have. THE Journal Online, 32(11) http://www.thejournal.com/magazine/vault/articleprintversion.cfm?aid=5387 David
What a crock. First of all, they need skills for transfering knowledge and skills from one domain to another. Then they need skills in learning new things on the fly via experimentation. Furthermore they need skills in developing social relationships with other educators to share knowledge and experience. And finally they need critical thinking tools for accessing the needs for use of technology in particular situation with an eye on avoiding technology where it doesn't have specific pedagogical value. And we're not even considering the use of non-digital technologies, critical media awareness, evaluation of content, etc.
Nothing reminds me more that educational technology specialists have cognitive myopia than when you see a list of tool based skills sitting all by themselves. GAK!
Posted by jason at 09:42 AM | Comments (1)
What is appropriate, after all?
It is agreed by most that in raising a child the child should be subjected to a certain amount of confusion, paradoxical logic, and paranoid fantasy. This can only result in a broader range of influence for the child. Below are some techniques for planting the seeds of a healthy character in your child's mind at an early age.
Posted by jason at 08:52 AM | Comments (0)
July 17, 2005
A cautionary tale for educators
The New Nanny Diaries Are Online - New York Times
OUR former nanny, a 26-year-old former teacher with excellent references, liked to touch her breasts while reading The New Yorker and often woke her lovers in the night by biting them. She took sleeping pills, joked about offbeat erotic fantasies involving Tucker Carlson and determined she'd had more female sexual partners than her boyfriend.
Posted by jason at 07:06 PM | Comments (1)
Harry Potter Pricing
Yuka and I were out shopping today. Chocky's for cheap stuff, MEC for another pelican case, and the like. As we walked past stores we noticed lots of copies of the new HP book on sale. Pages had it on sale for 20% off, based on a price of $38. Chapters had 20% off on a base price of $41. But the real winner was Shoppers Drugmart. It had it on sale for $24. No special display. Just a couple of dozen books sitting there.
No, we didn't buy a copy. Waiting for the bubblegum cards.
Posted by jason at 01:18 PM | Comments (0)
More Tea Karl?
Karl Marx is the nation's most revered philosopher. No, this isn't old Soviet agitprop, but the result of a Radio 4 listeners' poll organised by the broadcaster Melvyn Bragg for his series In Our Time. The veteran Marxist historian, Eric Hobsbawm, thinks he knows why. His reasoning is as contemporary as Marx's was visionary. "The Communist Manifesto," he says, "contains a stunning prediction of the nature and effects of globalisation."
Posted by jason at 08:38 AM | Comments (0)
July 16, 2005
Digital Text Cycles: From Medieval Manuscripts to Modern Markup
Digital Text Cycles by Terje Hillesund:

The paper argues that the current implementation of digital publishing is a minor step in a long development of digital text cycles. Rather than being a revolution, the digital transformation of text is an evolutionary process heavily influenced by social and cultural factors. The paper introduces the concept of a "text cycle". An examination of basic features of paper-based text cycles and features of digital text cycles demonstrates that digital technology has a potential for change that far exceeds that of the "Gutenberg revolution". However, by applying a historical perspective, I will try to show how the deep and enduring cultural heritage of print is impeding the radical potential of digital texts.
Posted by jason at 03:41 PM | Comments (0)
Catsy in Katsystan
Catspaw's Guide to the Inevitably Insane is slim on facts, but inviting with details:

...I am alive, though far away. :)
As she travels through central asia, we can only hope for the dirt.
Posted by jason at 08:00 AM | Comments (0)
July 15, 2005
Aaron Chan says...
Posted by jason at 10:23 AM | Comments (0)
TechnopunkshamenDali
From some strange site, Literatur, comes a strange sight.
I've always thought that Dali was the first art school punk, because of his attitude and mohawk. Jacqueline didn't believe me when I told her that Dali had a mohawk. This picture doesn't do it justice, but you can see what I'm talking about. This was taken around 1924 I think. When he was into making movies.

Posted by jason at 09:11 AM | Comments (1)
July 14, 2005
Remedial Science Education Needed
Telegraph | News | Ukrainian vampire drugged children and drank their blood


A vampire has been arrested in Ukraine after luring street children into her home for their blood.
Diana Semenuha, 29, believed that drinking blood could fend off a muscle-wasting condition. She kept the children intoxicated on drugs and alcohol and bled them regularly, selling the surplus to other black magic practitioners. When that weakened them, she dumped them back on the streets and lured replacements with the promise of a place to sleep and a hot meal.
Posted by jason at 07:54 PM | Comments (0)
Wiki writing, wiki readingAuthor
The Chronicle of Higher Education: Colloquy

Tech-savvy faculty members and students are starting to dabble in "wikis" -- Web sites that can be edited by anyone who visits them. Especially in creative-writing and literature courses, some professors argue, the communal Web sites promote a more casual, flexible form of class discussion than do blogs and message boards. And some enthusiasts say that the technology can actually change students' writing for the better, by encouraging them to swap ideas with their classmates and to revise their work continually. Have you or your students used a wiki? What are the advantages and disadvantages?
Posted by jason at 11:55 AM | Comments (0)
July 13, 2005
It is a feel good thang...
MagneCote: The World's Most Attractive Paper
Posted by jason at 10:19 AM | Comments (0)
Vores Øl
..::...Vores Øl...::..: "Vores Øl (Our Beer) is a great tasting energetic beer and it's the world's first open source beer!"
Posted by jason at 09:17 AM | Comments (0)
The Transitive Vampire:

Amazon.ca: Books: The Deluxe Transitive Vampire: A Handbook of Grammar for the Innocent, the Eager and the Doomed is back in print! I have a first edition copy of it. And so should you all. And so should you all.
Posted by jason at 08:34 AM | Comments (0)
From the Duh, Obvious dep't
[Check out the comments: Jeremy, Rochelle, Tyra and me.]
Inside Higher Ed :: Undercover Freshman
So Nathan, an anthropologist who has previously devoted her scholarship to research on a village in a developing country, decided to apply her discipline on her own campus, a public university. Nathan applied as a freshman (submitting only her high school transcript to show her academic credentials), moved into a dorm, enrolled in courses, shared beers and gossip with her fellow students, and took careful notes throughout.

The result is
My Freshman Year: What a Professor Learned by Becoming a Student, which is about to be released by Cornell University Press. Nathan is a pseudonym and she does not identify her university or any students by name because she doesn't want to violate the privacy of those who confided in her. In the book, and in an interview, Nathan discussed the unusual ethical issues she faced, the joys and hazards of dorm life and what she learned about higher education by spending a year on the other side of the power divide.
Posted by jason at 08:15 AM | Comments (0)
July 12, 2005
Clickers? Gross
Wired News: Classroom Clickers Make the Grade
Hundreds of colleges, high schools and even middle schools are using "clickers" -- as even manufacturers call them. A moderator can pose a question and within seconds the respondents' answers are anonymously logged on a laptop at the front of the room.
Ok, lets use technology to further isolate us, ok?
Posted by jason at 12:07 PM | Comments (1)
July 11, 2005
Blind Certainty... the little death
Creative Generalist has provided us of a wonderful exerpt of David Foster Wallace - Commencement Speech at Kenyon University:
...blind certainty, a close-mindedness that amounts to an imprisonment so total that the prisoner doesn't even know he's locked up. The point here is that I think this is one part of what teaching me how to think is really supposed to mean. To be just a little less arrogant. To have just a little critical awareness about myself and my certainties. Because a huge percentage of the stuff that I tend to be automatically certain of is, it turns out, totally wrong and deluded. I have learned this the hard way, as I predict you graduates will, too. ...And I submit that this is what the real, no bullshit value of your liberal arts education is supposed to be about: how to keep from going through your comfortable, prosperous, respectable adult life dead, unconscious, a slave to your head and to your natural default setting of being uniquely, completely, imperially alone day in and day out. That may sound like hyperbole, or abstract nonsense. Let's get concrete. The plain fact is that you graduating seniors do not yet have any clue what "day in day out" really means. There happen to be whole, large parts of adult American life that nobody talks about in commencement speeches. One such part involves boredom, routine, and petty frustration. The parents and older folks here will know all too well what I'm talking about. ...It is about the real value of a real education, which has almost nothing to do with knowledge, and everything to do with simple awareness; awareness of what is so real and essential, so hidden in plain sight all around us, all the time, that we have to keep reminding ourselves over and over: "This is water. This is water.
Posted by jason at 08:40 AM | Comments (0)
July 10, 2005
Saturday in the City
Random Access Mazar sayeth:

I spent today in Toronto, getting in some quality time with my favourite Torontonians in an outrageously overpriced tea house. The price tag, however, was justified by the fact that we were permitted to spend a ridiculous amount of time hanging out in the comfort of their establishment, hashing out everything from grad school to the future of instructional technology. I was able to show off my incredibly ability to drink two entire pots of tea in one sitting to boot.
Yes. It was a strange and wonderful day. It started with yuka and I going to Rapp Optical. Rapp is probably one of the best Optical places in the city, with quite an insane diversity of frames, many of their own design. Yuka needed a new piece for her sunglasses, and I needed new lenses in my regular glasses (they'll be done tuesday). We caught owner Mel in the store and we made small talk. He's writing a book on the history of eyeware, and he and I had worked with Steve Mann on some of his eyetap stuff in the past. I told him I had gotten a job at Ryerson, and he ran off, having 'just the thing' in the back. He came back with a photocopied chapter on 'Toys' from Roland Barthes: Mythologies. Sweet. Haven't looked at Barthes since undergrad. Mel's always so thoughtful.
Then we got home, to find Rochelle waiting outside our door, on the 9th floor. We were embarassed until she admitted that she'd seen us go in the other entrance to our building, and had snuck in the south doors, beating us by moments. After a lunch of pint sized gin and tonics, breads from Alchemy Bakery, wonderful salads, and sausages, we headed out for the afternoon. Yuka, Rochelle and I went to Pages, and then Indigo, to find some reading material Rochelle wanted to get for Catsy. We met Catsy outside Baka Books, and tried to go in to listen to someone doing a reading. It was impossible. The reader wanted to read the entire novel, and someone else was talking loudly in the store. So we went outside, and talked, and went in and listened, and repeated this a couple of times, while Yuka chased the orange cat outside Come As You Are. Someone was trying to let it back into the store, only to discover it was not from Come As You Are, but from the store next to it.
Then, as Rochelle relates, we went over to the Red Tea Box for tea and goodies. I had a pot of lapsang souchong, as I'm wont to do. And we chatted all afternoon.
Realizing it was after 6 we parted ways with Catsy and headed back here. Yuka bailed, but I headed over to Cedo's for a BBQ, and Rochelle trundled home. The BBQ was under populated so Cedo and I just chatted the night away, until i realized it was 1:30 am. I called yuka and ran home, after a great, though quiet evening.

Posted by jason at 08:52 AM | Comments (0)
Me toooooo!
Disclaimer: This is a personal weblog. Opinions expressed herein are exclusively my own and do not necessarily represent the policies of my employer. Or the opinions of my friends, relatives, or neighbours.
Posted by jason at 08:25 AM | Comments (0)
July 07, 2005
Not so happy birthday...
CNN.com - London rocked by explosions - Jul 7, 2005

Posted by jason at 07:41 AM | Comments (0)
Happy Birthday
Happy July 7th birthday to Howard, Muddy, and Me: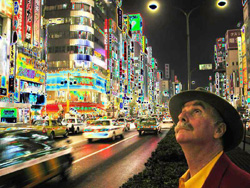 Posted by jason at 07:10 AM | Comments (1)
iVog: iMovie Video Plugin Project
vlog 3.0 [a blog about vogs] iVog: iMovie Video Plugin Project
In collaboration with Dr Seyed Tahaghoghi of computer science here at RMIT I've been successful in getting an Apple University Development Fund development grant (now that's a silly title isn't it?). The aim of this is to develop a plugin for iMovie that will:

compress your edited video to appropriate format (ideally a decent mp4 file)
export this compressed video directly into your blog CMS
allow text entry to accompany the blog post (including title of post)
automatically allow selection of categories and the usual raft of additional things that blogs support (comments and trackback enabled, date and time of publishing)
automatically extract a series of still frames to produce a micron (micro movie) for use as poster movie (say, 20 frames from throughout the video)
make this micron autoplay when mouse in event occurs and load vlog clip when mouse click event occurs
Posted by jason at 07:00 AM | Comments (0)
July 06, 2005
Ryerson's Akua Benjamin is among 1,000 women nominated to symbolically share the Nobel Peace Prize
From the Dean Williams:
I want to share with the Ryerson community wonderful news about Akua Benjamin, Director of the School of Social Work. Akua is among 1,000 women nominated worldwide, including 10 in Canada, to symbolically share the Nobel Peace Prize.

The nomination is a statement of the immense contribution Akua is making to the causes of peace and social justice. We are thrilled that she is being recognized for her important work on anti-racism, crime, feminism, equity, anti-oppression and human rights. We can all take pride in her achievement!

Akua was nominated by the 1,000 Women for the Nobel Peace Prize 2005 project, which aims to raise awareness of the millions of women around the world working for peace. She is in good company: Akua's fellow nominees from Canada include Maude Barlow, National Chairperson of the Council of Canadians, and Louise Arbour, the United Nations High Commissioner for Human Rights. (See http://www.1000peacewomen.org)
Posted by jason at 06:14 PM | Comments (0)
Eco-car more efficient than light bulb
CNN.com - Eco-car more efficient than light bulb - Jul 5, 2005: "LONDON, England (CNN) -- An eco-car that can travel the world using a fraction of the electricity it takes to power a light bulb has been unveiled by its British creators."

Posted by jason at 07:43 AM | Comments (0)
Busted for surfing on open wifi networks.
Slashdot | Man Arrested for Using Open Wireless Network: "In Tampa Bay, a man has been arrested for using a wide open WiFi AP.... 'It's no different if I went out and bought a Microsoft program and started sharing it with everyone in my apartment. It's theft,' said Kena Lewis, spokeswoman for Bright House Networks in Orlando."
Full story State: Wi-Fi cloaks a new breed of intruder
This is really interesting for a variety of reasons. I am always looking for open wifi networks, though I've never actually used one. Some of my friends have. But open networks are problematic. On one hand they speak to free and open access, on the other they represent a conduit for illegal activities. I'm not a 'law and order' man, but when this could include the anonymous sharing of child porn, then my ears perk up. I think there are better ways of tracking down social criminals than busting people for using open wi-fi networks. Like I said, this is purplexing.
Posted by jason at 07:35 AM | Comments (0)
July 05, 2005
Steve Mann's Nessie
More pictures of Nessie the musical monster.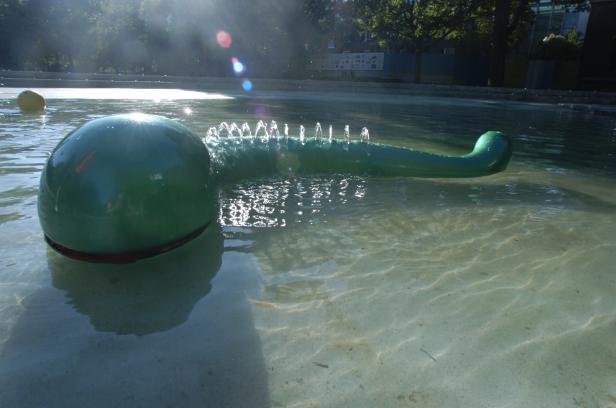 Posted by jason at 03:03 PM | Comments (0)
July 04, 2005
And the Drum Continues to Beat
[Christina is one of my old students from the Division of the Environment at UofT.]
Pass the Parcel Productions presents
And the Drum Continues to Beat (a Musical)
Written & Directed by Christina Wong
Music & Lyrics by Enio Chiola, Jason DeNicolais, & Christina Wong
Additional Music by Noel DiTosto, Nimy Leshinski, & Marc Teghrarian
Starring Enio Chiola, Jason DeNicolais, Michelle Gram, Lucas Lopez, Antonella
Scali, & Diana Tso*.
*Appearing by special permission from the Canadian Actors' Equity Association
Open your eyes and use your imagination as Turtle takes you on a journey of how the Earth came to be through storytelling and music. Weaving the traditional story of the Earth on Turtle's Back with a modern Canadian context, we see hope in the struggle between humankind and nature.
Presented at the KidsVenue of the 2005 Toronto Fringe Festival The Palmerston Library Theatre, 560 Palmerston Avenue (at Bloor)
Fri, July 8, 1:30PM
Sat July 9, 5:30PM
Sun, July 10, 4:30PM
Tue, July 12, 7:00PM
Wed, July 13, 12:30PM
Thu, July 14, 7:15PM
Fri, July 15, 11:00AM
Sun, July 17, Noon
The theatre is air-conditioned and wheelchair accessible.
Tickets: $8 adults ($10 advance), $5 children / ABSOLUTELY NO LATECOMERS!
Passes: $6.50 - $7.50
For advanced tickets call 416-967-1528
For more info call the Fringe Hotline at 416-966-1062 or visit www.fringetoronto.com

Posted by jason at 06:34 PM | Comments (0)
Looks like fun to me
Comic Life looks like fun. Anyone got it?
Tons of uses
* Comics... duh ;)
* Annotate family photos
* Holiday photo album
* Childrens story books
* How-to' Guides
* Basic desktop publishing
* Greeting cards
* Gifts
* Scrap booking
Posted by jason at 07:13 AM | Comments (0)
SlashIrony
When I got to Slashdot today to read this article, Windows Software Ugly, Boring & Uninspired, I got my morning smile. The ad below the first paragraph was for, you guessed it, Microsoft products.
Posted by jason at 06:59 AM | Comments (0)
July 03, 2005
Pelican Case
Pelican Cases rule. I just got an 'emergency orange' 1200 CASE for my video camera. It is safe now... safe from my clumsiness.

Posted by jason at 06:55 PM | Comments (0)
Podcasting: naive attitudes to exploring technology
Via Weblogg-ed
Steve Sloan is playing with podcasting. And if I got it right (correct me if I'm wrong) he was podcasting using students, and puting it into public places, i.e. online. In his works from About that podcast:

Since I had been researching as well as teaching emerging technologiesfor CFD I agree, the podcast I did with the three students should have been coordinated with my supervisor (even though I was on my ownlunch break) or should not have been done near work.When I was presented with concerns over my podcasting, I said I would notdo it that way again. I said I would only podcast in the future on my own time awayfrom facilities where I work. (I also said I would use disclaimers to make it clearI was not representing SJSU.) Then, I was verbally told I could not interview students, evenon my own time. (Remember all the university students I spoke with areadults.)
I wonder what I'm missing. As a professor you never collect data or conduct inquiry on human subjects unless they have signed 'informed consent" forms that have been vetted by ethics review committees. Of course this is more important for me doing work on children, but I did all my research for my doctorate on graduate students. It is the same no matter what.
His response regarding permissions... Steve Sloan, SJSU Tech on a mission: July 2005:

Who gave me permission to speak to students? Who gives me permission to broadcast my ideas to the world? Who gave me permission to talk about what I do and to open up about what I see both in my job and in the rest of my life?
I don't blame steve at all. And I don't know him, though I think what he's doing is cool. I've found that in the US and in Britain, and perhaps in parts of Canada (though I've enver found them) the whole notion of the ethics of data collection is missing. And my experience is perhaps tainted by the fact that at UofToronto all research fell under the purview of the same ethics board, education, engineering, medicine... all of it. And in my new job at Ryerson, I research children's learning and technology. I cannot photograph them, record their voices or make any content public without following specific protocols for their safety. This has made me sensitive to the ethics of research, and strangely enough I have not come up with a single instance in which I think that it is not necessary to have formal ethical guidelines for the collection and use of data. But when someone problematizes it for you, I hope people would wake up and listen.
There are many ways to get around this problem. You have students do work in public places and then reference it. You turn students into public content producers and discuss it. But you do not do it with them and make it public, without going through ethical reviews. I don't get why this could be considered a problem for some folks, but folks have told me that they don't see what the problem is. I should put it on the final exam.
Posted by jason at 06:32 PM | Comments (3)
K-12 blogging explained?
Weblogg-ed points to this article
What is a blog? Educators discover the newest form of intimate and immediate conversation as finally getting it right, saying:

Finally, an article on blogs in schools that gets it pretty much right. What's in a Blog? is the lead story in this month's American School Board Journal and it does a great job, I think, of framing the potential of blogs and in accurately reflecting the state of the Read/Write world. Now if every board member in the country reads it, we might start bringing some sanity back to the blogs and safety conversation.
However, I was struck by a couple of things. First of all, it never explains what a blog is at all, nor make any meaningful comment on its history. Secondly, it highlights blogs as tools for high placed admins in school board to talk about 'issues'. That is, it is the journalistic/public relational side of blogs that get all the cred.
To its credit it does note that all the coolness is being done by teenagers, highlights the potential for younger bloggers to communicate, and does focus on the 'putting people in touch with people' aspect, but it clearly misses the point that blogging was, has been, and hopefully will be about co-blogging, not blogging as personal broadcast medium. I read your blog, you read mine. We share info from our overlapping spheres of influence, but it is not, in its best sense, a form of journalism or public media conduit that the late-comers to blogging seem to want to create out of it. I personally think that this pressure comes from the fact that many people want to talk, but aren't really interested in listening. Sure, they respond to comments about their work, but they don't want to search out your work and engage with it; unless you're a big name, prof, A-lister or have a following.
Sure, I'm a prof, but this isn't much of a proffy top-down blog, in terms of content and attitude, it is as much a mix and match pile of information of what's going on in my life as my sister Cats' blog is. And no, that's not Catspaw (aka KAT!).
I'm always ranting that computers are for putting people in touch with people, and the objects they create. The broadcast media metaphor fails in its centricity, just as a-list specific blogs are 'often but not always' crippled by their incestual myopia. I want to see if or how blogs can manifest themselves as chaotic community tools, islands of order amid the woof and warp of an individuals myriad of social relationships throughout a life, written for the self, shared with an infinite number of potentially reciprocating readers.
Now coffee time. Will check for logic and spelling errors later.
Posted by jason at 08:15 AM | Comments (0)
July 02, 2005
Real Sushi
Yuka, Cedo and I went out to Sushi Kaji tonight. If you like sushi, and you've never had top of the line tokyo fare, go. But save your millions in advance. Wow.
Posted by jason at 10:04 PM | Comments (0)
video blogs
Now that I have a video camera, I care about this: iTunes 4.9 supports videoblogs - The Social Software Weblog
Chuck Olsen tells us that the new iTunes 4.9 update adds support for videoblogs. Whoa. This could potentially be a huge boost towards growing the audience for videoblogging. I'm personally going to stick with FireANT for its full-featuredness, but I'm psyched for all the new folks who'll be exposed to the world of videoblogging via iTunes.
Posted by jason at 08:29 AM | Comments (0)
Funtain on Canada Day
We went over to Grange Park across the road to see steve's latest invention the Poseidophone prototype. I got some great video, but haven't uploaded it yet. The event was part of the Canada Day Art in the Park put on by the AGO. The picture below includes Toronto City Councillor Olivia Chow
Posted by jason at 07:07 AM | Comments (0)
July 01, 2005
Canadian Nationalism
I thought this was fitting. I noticed Jeremy's status message while jawing with Cosmo about when he can become a Canadian citizen. I'll keep this around for when Jeremy applies for jobs in the great good land of Kanukistan.

Posted by jason at 06:30 PM | Comments (0)
Home shots
I've uploaded a pile of pictures from the inside of our new home as a slide show on flickr. It is only viewable if I list you as friend or family, which i think means you have to have an account and my listing you. If you want to see them, and I've not got you tagged as friend, lemme know and I will.
Posted by jason at 05:54 PM | Comments (0)
Famous Crosswalk Button Hack
Famous Crosswalk Button Hack :: The Hacker's Defense Foundation :: Best viewed in 1024x768 Homeland Security Mode
A shadowy group of pedestrian hackers called Cross Anytime announced their discovery of several back doors or "cheats" using crosswalk buttons at many intersections. The 3658-item list has been released on their website www.crosswalkbuttonhacks.com. While some of the codes have been obtained through intelligence gathering and analysis of illegally obtained push-button systems, most were uncovered through the brute-force approach. "It's wasn't as easy as it sounds," Walker said. "Contrary to what the kiddies may think, going crazy with clicks doesn't help much. You need to understand the inner workings of the systems - not to mention differences in the push-intervals. For instance, the McKenzie mkI model is based on dual 1.2 second cycles (meaning that long clicks and pauses last 1.2 seconds) while the mkII model uses a 1.5 second cycle (pauses are 1.5 seconds long). And the models look almost identical to the casual pedestrian!" The most popular hack, which works on most models, is the "Instant Walk." Three short clicks, followed by two long, one short, two long, and three short; turn any crosswalk signal from "don't walk" to "walk" with a matching change in the traffic signals.

rw-, a co-editor here claims this hack has been out for years. The FBI closed down the website for the usual DCMA/TERRORIST BS reasons fearing that terrorists might be able to cross the streets of America at will. What they forgot was that the page is mirrored over most of the internet, in places they can't control.
Posted by jason at 02:09 PM | Comments (0)
Quincey P Morris

Quincey P Morris
Originally uploaded by complicitytheory.

Elizabeth's cat, and yuka's main squeeze.Elizabeth's cat, and yuka's main squeeze.
Posted by jason at 10:11 AM | Comments (1)